Family Sponsorship Ontario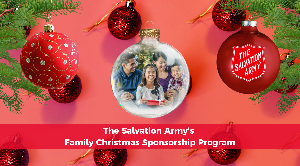 For many families, especially during the Christmas season, basic necessities are out of reach.

The Salvation Army in Ontario provides hope to individuals and families who are dealing with food insecurity, unemployment, and mental health. Last year, with the generosity of our Army of Givers, we helped 1.2 million people in Ontario.

Through our Christmas Assistance program, you can bring smiles to families during the holiday season. The program provides essential support to families during the Christmas season such as food hampers so families can enjoy a nutritious meal and new toys so children can wake up elated on Christmas morning that Santa dropped by.
View More